Napa Chiropractor Google Reviews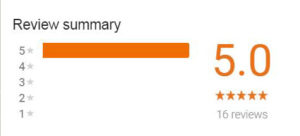 Very informative and detailed in explaining treatment. Best in Napa. If you're looking for an experienced chiropractor who is reasonable and focused on your experience, this is your best option in town.
Doctor Megna is very knowledgeable and he really listens. He helped me with back & neck problems and also foot issues. The results I have gotten are incredible because he knows what he's doing! Plus he is a really nice person. I would and have recommended him to one and all.
Dr Megna uses a gentle technique with experience, educates for self care and is affordable. I sincerely recommend that he is safe, effective, health oriented. Thx Dr Megna, I appreciate you very much.
Joe was great at helping me resolve some persistent issues with my lower back.Not just good chiropractic therapy but useful tips and changes in my routine that really helped me return to my active lifestyle. I highly recommend his services.
I've had excellent care from Dr. Megna. He spends more time with me than other chiropractors have done. It pays off because I feel much better after an adjustment with him. His prices are very reasonable.
After a long trip to Oregon and back, too many hours on the road. I got back and the next day started to have low back pain. The next day it was worse and the next day I couldn't walk. The pain was the worst I've ever had. I have never gone to a chiropractor in Napa. I knew I had to get some help. I went on line and with all the great reviews on Magna Chiropractic, I made the call. He answered early in the morning and said to come in that day. With the help of my wife and walking stick I made it into the office. The first treatment was good and aloud me to get a good nights sleep. I could walk with the help of the stick. I went back the next day for the second treatment. It went very well. After the visit I went home and am know walking without the stick. I still notice a little pain but nothing like before. I'd like to say don't be afraid of referrals from the computer, I got a great Chiropractor and well on my way back to a pain free back. Thank you Dr. Magna.
I went to see Dr. Megna for neck and wrist pain and they are both gone. Dr. Megna takes his time with each patient and explains what is happening and how he can help. He also explains and gives written instructions about the home care. I would highly recommend him for anyone that is in pain.
Don't delay! Call (707) 226-5200