Experience Safe and Effective Natural Health Care with Chiropractic Instrument Adjusting 
Specializing in providing short term care programs for safe efficient relief.
If you suffer from any of the following conditions, you may want to consider a chiropractic evaluation and treatment with Chiropractic Instrument Adjustments.
Low Back Pain – Sciatica – Disc Problems – Hip, Knee, or Foot Pain – Neck Pain – Headaches – Numbness – Whiplash Injuries
Shoulder, Arm, or Wrist Pain – Carpal Tunnel Syndrome – Scoliosis – TMJ – Fatigue – Muscle Spasms or Soreness, and Much More
Once Dr. Megna has diagnosed your problem, the treatment or solution to the problem is known as a Chiropractic Adjustment.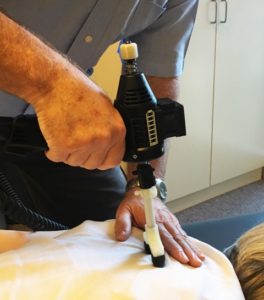 The Chiropractic Adjustment is a high velocity, low amplitude or fast short thrust.
This biomechanical and neurological release, re-set and re-calibration is why Chiropractic Adjustments are so effective.
A Chiropractic Adjusting Instrument delivers an adjustive thrust that is 100 times faster than what a Chiropractor can deliver by hand.
The speed of the instrument delivered thrust makes it very effective and at the same time the controlled depth of the instrument delivered thrust makes it very safe.
The result is more biomechanically efficient adjustments that are gentler and easier on patients.
Additionally, the force delivered by the instrument and the speed of repetition is adjustable to suit different areas of the body.
This allows chiropractors to deliver comfortable and effective adjustments to the area of the body needing treatment.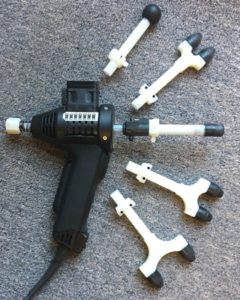 This special Chiropractic Instrument can deliver effective rapid pulses better and more efficient than the human hands can,
and it can direct the input where it needs to be for the best results.
Most patients find the instrument adjustment to be very comfortable while at the same time very effective.
While I am considered an excellent manual or by hand adjuster by my peers, these days most of the adjusting I do is with a Chiropractic Instrument.
Call (707) 226-5200 Rio Vista, CA
One of the primary techniques used by Doctors of Chiropractic is the "chiropractic adjustment"
Learn more about chiropractic adjustment here > >
Get relief now!  Same day appointments often available.  Don't delay! Call (707) 226-5200.